The Cycling Without Age – DC is tentatively planning its first rides on March 11 and 12.  Our first rickshaw is en route. We are currently fundraising for our start-up capital.  Please consider contributing. Watch this video! Then watch this video!
OUR MISSION
We are a community of volunteer pilots that take senior citizens for slow, social, recreational bike rides in comfortable rickshaws. We aim to reach and improve the lives of elderly people, supporting retirements communities to be places of joy and continued mobility. We believe that life can and should be beautiful even if you're close to a hundred years.
We take elderly people out for a bicycle ride – through the city, to the water and the countryside. We break them free from social isolation. Make them smile. Bring back their memories. And let them be part of society again and thereby renew their appetite for life itself. We give them the right to wind in their hair. But it's not only about the elderly people. It's also about the volunteers. The pilots. Cycling Without Age is probably less about volunteering in the traditional sense of the word – and more about active citizenship. Citizenship driven by a desire to get involved and to make a real difference for someone. It's about creating relationships between people.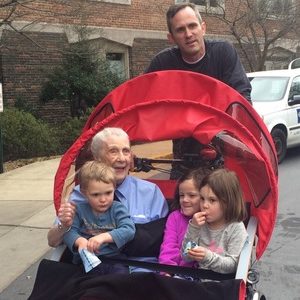 Rick Monk
Cargo cycling enthusiast,
attorney for nonprofit organizations
rick.monk@cyclingwithoutageDC.org
Craig Iscoe
Bicycle touring enthusiast, judge
craig.iscoe@gmail.com
Greg Matlesky
Dutch-bicycle enthusiast, legislative aide